Our mission: To make training and development of employees easier, highly interactive and therefore more sustainable and efficient.  
elearnio - Interactive Preboarding, Onboarding & Training
Structured induction training as well as sustained further training are key drivers for the success and motivation of employees. Companies that actively support their employees in constantly learning new knowledge can build on the loyalty of their employees and the knowledge acquired in the long term. With elearnio, you create the ideal basis for successful preboarding, onboarding and training of your employees. We combine powerful web-based technology with didactic know-how and offer you with elearnio, a comprehensive solution for interactive knowledge transfer.
Lars Krüger heads the Product Management & Customer Success departments at elearnio. Before founding elearnio, he worked as a manager for digital companies such as trecker.com and Aroundhome.
As Chief Marketing Officer, Katharina Beuck is responsible for strategic and operational marketing at elearnio. Previously, she led the Marketing departments at German Deep Tech GmbH and Signavio GmbH and worked as a BPM consultant at BPM&O GmbH.
As Chief Product Officer, Sascha Meissner is responsible for the further development of the elearnio platform. Previously, he was CPO at Invia Group Germany and worked for companies such as Mister Spex and IBM.  
Interview with the elearnio CEOs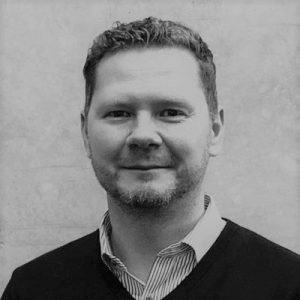 Founder & former COO
of Mister Spex
Björn is Co-Founder and former Chief Operating Officer and Chief Marketing Officer of Mister Spex. In his last position at German Deep Tech, Björn has actively supported numerous Deep Tech start-ups in scaling up and executing financing rounds. He is an active business angel of several tech companies.
André is shaping tech environments for more than 15 years, bringing technology and business together. He has worked for SME up to large corporates on all levels, from software engineering to guiding technical teams and transforming companies and their business on a tactical and strategic level. In recent years he was primarily working as a Chief Technology Officer at Mister Spex and is currently joining Smava as CTO.
"From our experience as managers when training new employees, we soon realized that existing solutions such as classic intranet systems reach their limits quickly. In addition, classic onboarding always requires a lot of time from the managers. If employees are hired constantly, the manager must devote an increased time to onboarding. This time is then missing elsewhere. 
We founded elearnio with the goal of supporting companies in setting up their preboarding, onboarding & training in a professional and sustainable way. This is because of the benefits that the employees and company receive from it." 
Would you like to take a new career step?
We are looking for new colleagues to strengthen our team!
You have questions? Send us an e-mail or give us a call. We are happy to help!
Tel.: +49 30-120 834 42
E-Mail: info@elearnio.com
Stay up to date with the latest news from elearnio!
Register now for our free newsletter.